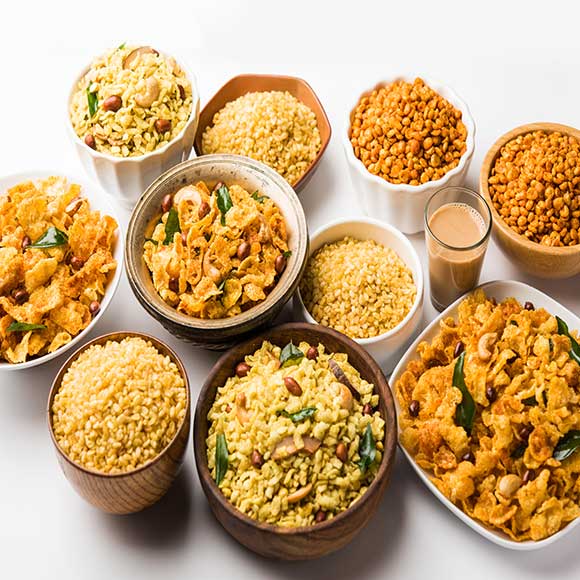 Indian products are always astonishing. Diverse culture and tradition of the land is imprinted on its products too. Indian snacks are one among the highly economic classes in the global market. Our products are composed of natural ingredients only and packed efficiently so that they retain actual taste and aroma.
Mixture
Mixture is one of the most favourite crispy snack of India. As the name implies it is a combination of sev, boondi, fried peanut, fried potatoes and spices. We have Kerala Mixture, Kerala Hot Mixture, Special Cashew Mixture, Sweet Mixture and Bombay Mixture.
A very tasty mixture flavoured with Cashews and Pasipayiru gives the rich taste for this mixture. Spicy look and best suited for evening snacks with tea or coffee.
Sweet Mixture is an exotic recipe prepared with deep-fried finely grated Potatoes, Cashew Nuts, Almonds, Ground Nut & Raisins. Deep-fried ingredients are finally tossed with powdered Sugar & Cardamom Powder.
Banana Chips
The popular snack, stands for purity and naturality. This is an inevitable side dish for Onam, the cultural festival of Kerala. We are offering Salted Banana Chips, Salted Banana Long Chips, Spicy Banana Chips, Spicy Banana Long Chips, Ripe Banana Chips and Ripe Banana Long Chips
In addition to this we are serving various exotic snack items such as Cassava Chips, Hot Cassava Chips, Jackfruit Chips, Karachev, Omapodi, Karaboonthi, Round Murukku, Fried Moong Dal, Fried Chickpeas, Fried Chana Dal, Fried Gram and Gingelly Ball